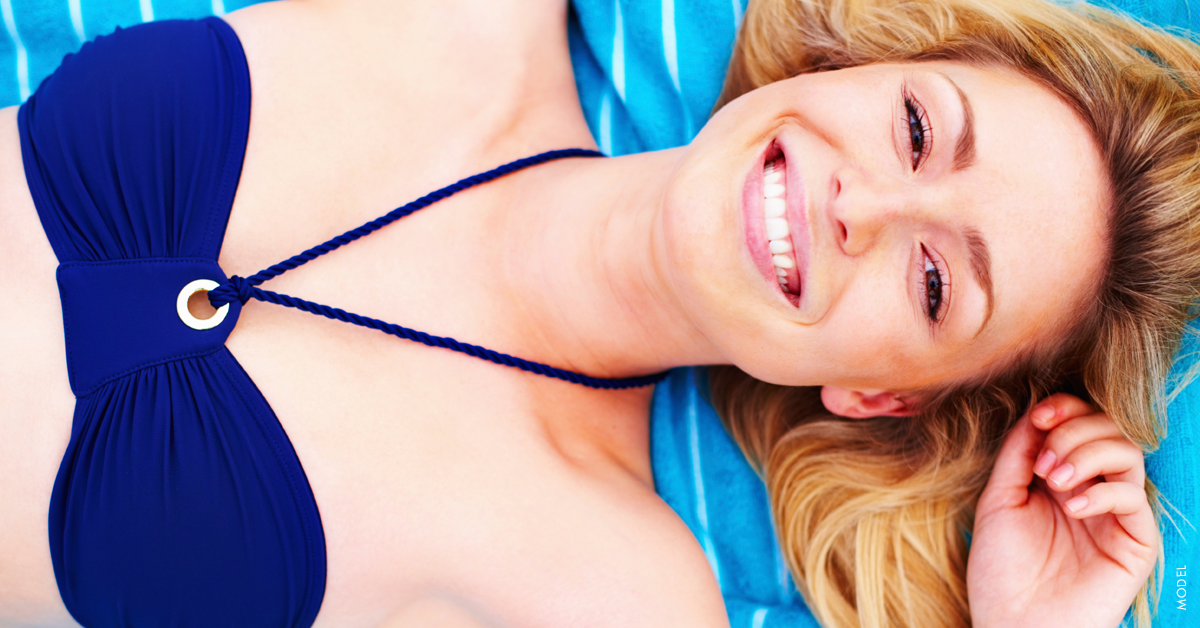 Breast augmentation remains the most popular cosmetic surgery in America, and for good reason. Implants are an excellent way for women to add feminine curves and feel more confident in their bodies.
One of the best parts of augmentation is being able to wear bikinis or tops that complement your new figure. And thanks to our warm Arizona weather, clothes like shorts, tanks, and even swimsuits can be worn nearly year-round. If you're hoping to be swimsuit-ready as soon as possible, you might worry about when to "time" your surgery. Is there a certain season in which breast augmentation recovery is easier when you live in a warm climate like Chandler, AZ? 
As I often tell my Gilbert, Mesa, and Chandler-area patients, there's no "best time" for surgery. But, if you're hoping to enjoy the warm weather as soon as possible, here are a few tips to keep in mind.
Breast Augmentation Basics
Breast augmentation is a surgery that utilizes implants to help restore fullness or enhance the symmetry of the breasts. Patients can choose implant placement, implant material, and other customizable details. 
Every woman is unique, so every surgery is slightly different. In this same way, every woman's recovery timeline can vary slightly based on body type and personal health. Overall, breast augmentation recovery typically requires 5 to 7 days of bed rest and 3 to 4 months to see full "settled" results. The breasts fall into their final natural shape and position as the swelling subsides. 
Heat and Healing
Whether you're enjoying our own East Valley heat or you're off on a warm vacation, the temperature can affect recovery. It's important to make smart decisions that will help your body heal safely and beautifully. 
Breast augmentations can be performed during any time of year, but sunny weather brings a few concerns. A few of these include:
Overexertion from strenuous activities 

Increased swelling due to heat

Higher chance of scarring with sun exposure
When recovering in a warmer season or climate, be sure to stay out of the sun and wear plenty of skin protection. Swimming should be avoided for about 4 to 6 weeks after surgery. Also, drink plenty of water so your body doesn't become overheated. 
Bright Side of Recovery
If you live in a high temp area, not all hope is lost. By scheduling out a smart recovery game plan, you can jump in the pool as soon as safely possible.
2 weeks: Keep travel plans to a minimum and relax as much as you can. As your incisions begin to heal, you can gradually return to low-impact exercise and outdoor strolls.
4 weeks: Spend some time under a beach umbrella during this point in your journey. While sunscreen should help prevent dark scar tissue from forming, avoid any strenuous activities like vigorous dancing or water sports.
6 weeks: As implants begin to settle, gentle swimming or an easy jog should be fine. Breasts might not yet quite look their best in a swimsuit, but they'll look good under casual clothes and dresses.
8 weeks: Your body is well on its way to healing! It might take a month or two more until your breasts fully settle, but swimming and dancing should be relatively safe, no matter the weather.
The full results of breast augmentation can take up to 6 months to become apparent. But that doesn't mean you can't enjoy warm weather or time by the water even sooner. Browse our before-and-after gallery to see real results from our own breast augmentation patients. If you want to learn more about breast augmentation surgery options in the Chandler, Mesa, and Gilbert, AZ, area, contact us online or call us at (480) 466-7355 (Gilbert).