Dr. Josh Olson: Advanced Plastic Surgery Institute
1482 East Williams Field Road b101
Gilbert, AZ 85295
Phone: (480) 466-7355
Monday-Thursday: 9 a.m.-5 p.m.
Friday 9 a.m.-3 p.m.

Breast Augmentation
Each year, more than 300,000 women in the U.S. choose to enhance their figures through breast augmentation. Women in Chandler, Mesa, Scottsdale, and surrounding communities visit board-certified plastic surgeon Dr. Josh Olson for breast augmentation in Gilbert, AZ, because he creates natural-looking results and helps them feel confident about their breasts and their femininity. Dr. Olson and his staff at Advanced Plastic Surgery Institute will make every effort to ensure your safety, comfort, and satisfaction.
Allow Dr. Olson to make your breast enhancement goals a reality. Request a consultation online or call our office in Gilbert at (480) 466-7355.
Breast Augmentation

Before & After Photos
WARNING:
This feature contains nudity. Please click OK to confirm you are at least 18 years of age and are not offended by such material.
OK
Breast Augmentation

Before & After Photos

Keep in mind that each patient is unique and your results may vary.

Keep in mind that each patient is unique and your results may vary.
Reasons for Breast Augmentation
It's common for women to feel insecure about the shape or size of their breasts. If genetics aren't to blame, pregnancy, nursing, weight fluctuations, and menopause can detract from the size and shape of your breasts. Most women simply wish to restore or enhance the symmetry of their body contours with fuller yet natural-looking breasts. Dr. Olson's patients typically want to:
Increase volume
Restore breast volume following pregnancy or weight loss
Improve shape
Balance the size of uneven breasts
Boost confidence and femininity
Many women undergo breast augmentation as part of a mommy makeover, in which Dr. Olson combines procedures for the breasts and body to restore a woman's pre-pregnancy figure.
How Much Does Breast Augmentation Cost in the Scottsdale Area?
The cost of an initial breast augmentation procedure (not revision surgery) at our practice ranges from $4,900 to $6,500 depending on a number of factors. The type of implant has an influence on the final cost: Saline implants are less expensive than silicone gel implants. Anatomically shaped implants ("gummy bears") also cost more than round silicone gel implants. When it comes to your surgeon, it's important that your choice be based on more than the cost. Women searching for a breast augmentation specialist in the Phoenix area choose to drive to Gilbert to have a board-certified plastic surgeon with Dr. Olson's training and experience perform the procedure.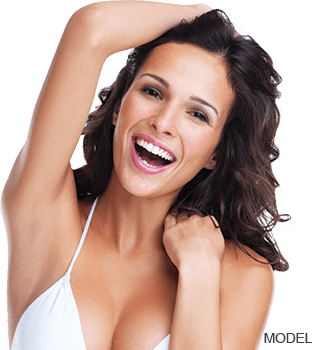 Complete the Look
Enhancing a single aspect of your appearance can inspire you to address other areas you wish to improve. Ask Dr. Olson about combining your treatment for a more complete and stunning transformation.
What Are the Options for Breast Augmentation?
You will make many decisions when planning your breast enlargement procedure, including:
Breast implant placement
Incision technique
Whether to combine it with another procedure such as a breast lift
Fortunately, Dr. Olson's patients have the advantage of his years of experience and training to guide them. Dr. Olson and his staff respect your confidentiality and personal decisions. They provide a private, comfortable setting in which you can feel confident about discussing your goals and concerns regarding breast enlargement.
Remember, every woman is unique, so one option is not necessarily better than another. Dr. Olson will help you select the best solutions for your body type, your lifestyle, and your goals.
"Dr. Olson and his staff are incredible. From the minute you have your consultation, to your surgery, and follow ups, you are treated in such a caring, professional, and kind manner. The results of my breast lift and implants are better than I could have ever imagined. My scars look amazing, I felt minimal pain, and they listened to exactly what I wanted. I truly couldn't imagine a better experience."
~Megan M. on Google Reviews
How Is a Breast Augmentation Performed?
Breast augmentation is an outpatient procedure performed under general anesthesia. The surgery usually takes 1 to 2 hours to perform. Once you are asleep, Dr. Olson creates a pocket for the implant either behind the breast tissue and in front of the chest muscle (subglandular placement) or behind the muscle (submuscular placement). Saline implants are inserted empty and filled once in place. Silicone implants come pre-filled. Once the implants are in place, Dr. Olson checks them for symmetry and accurate size before closing the incisions.
Is It Better To Get Breast Implants Over or Under the Muscle?
Placing the implants under the muscle provides the most natural-looking results for most patients. Each option has it's own advantages, which include:
Subglandular: This is a suitable choice for those who already have adequate breast tissue. Patients who have subglandular placement generally experience less discomfort during recovery than patients who have submuscular implants.
Submuscular: There are several benefits to placing the implants behind the chest muscle:
Implants are well concealed, so there's less chance of visible rippling.
The results typically look more natural with a smoother transition from the chest to the breast mound.
The muscle offers more long-term support for the implants and decreases the chances of implants sagging.
There is a lower risk of capsular contracture, a complication that occurs when scar tissue hardens around the implant.
Mammograms may be easier to read accurately.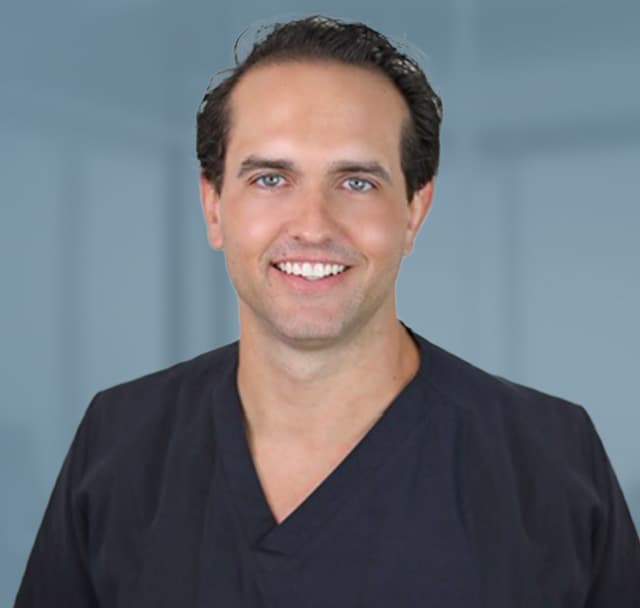 Meet Dr. Josh Olson
Board-Certified Plastic Surgeon
As a board-certified plastic surgeon in Gilbert, AZ, Dr. Josh Olson uses his world-class cosmetic plastic surgery training to meet all the aesthetic needs of the women and men he serves. What can he do for you?
Meet Dr. Josh Olson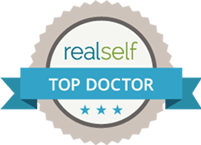 Which Incision Is Best for Breast Augmentation?
The "best" incision varies between breast augmentation patients depending on their anatomy, choice of implants, and personal preferences. Dr. Olson uses 3 types of incisions to perform breast augmentation. He informs patients about the benefits and drawbacks of each before they make a decision.
Inframammary fold (IMF): This small horizontal incision goes just above or within the crease where your breast skin connects to your chest. With this approach, a surgeon can clearly see all the tissues as he creates a pocket where the implant will go. This is the most common incision and offers consistent results regardless of the implant size or material. Scars are concealed beneath the breasts and under clothing and swimwear.
Periareolar: This incision goes on the outer border of the areola, the darker skin surrounding the nipple. Any scar is often hidden by the darker skin of the areola. This approach may be recommended if you are combining a breast lift with implants. A periareolar incision is typically not an option for women with very small areolae.
Transaxillary: This incision goes in the armpit, so there is no scarring on the breast itself. Dr. Olson uses a small endoscope to create a pocket and place the implant with precision. This incision is better suited for saline implants because they aren't filled until after they are placed. It can be difficult to squeeze a silicone implant into place from this incision site.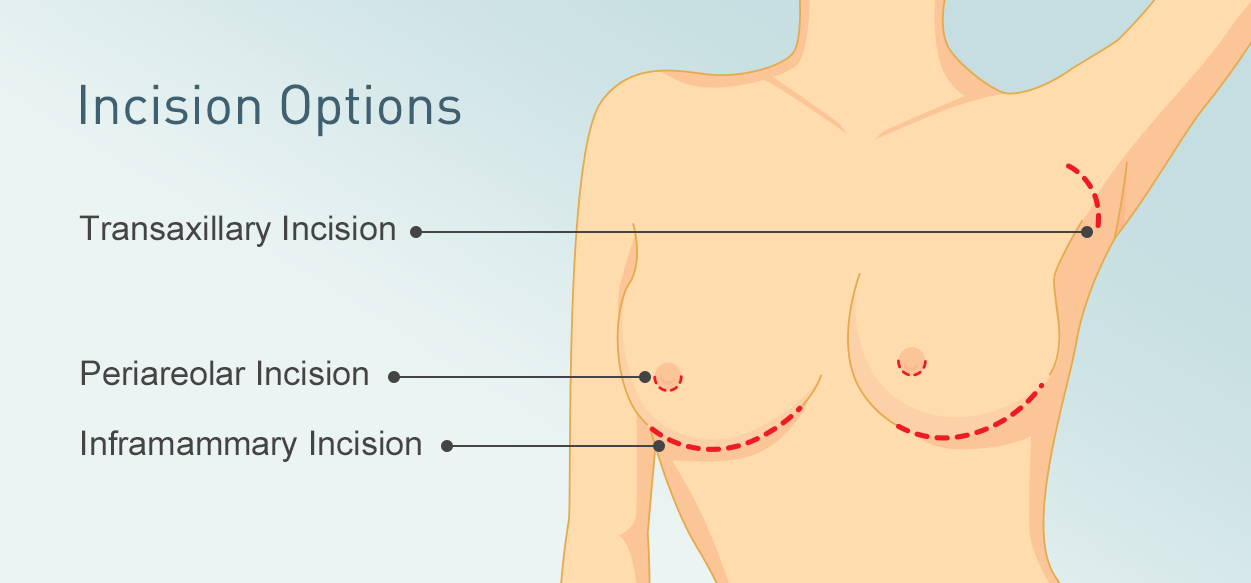 Preparing for Breast Augmentation Surgery
You can help ensure your operation goes smoothly and reduce the chances of complications after surgery by following the preoperative instructions provided by Dr. Olson. Our team gives you specific details about preparing for breast augmentation, but there are some general guidelines that all cosmetic surgery patients should follow. Those instructions include:
Stop certain medications. Do not take aspirin, ibuprofen, or any drugs containing these medications for at least 10 days prior to surgery. They thin the blood and can complicate healing. There may be other medications, including certain supplements, that we ask you to stop taking temporarily, as well.
Stop smoking. If you smoke, you should plan to stop for at least a month prior to surgery. Smoking interferes with healing because it constricts blood vessels.
Leave off makeup and jewelry. On the day of surgery, don't wear nail polish, makeup, jewelry, or any hair accessories when you come in for your operation.
Dress appropriately. Wear comfortable, loose-fitting clothes, including a shirt that buttons or zips in front. Don't wear any kind of sweater or top that goes on over your head.
Stop eating and drinking. Don't eat or drink anything in the 8 hours before surgery. Avoid alcohol for 24 hours prior to your operation.
Preparing for Recovery After Breast Augmentation Surgery
Our patients often find that recovery after breast augmentation is quite simple. Still, there are a number of things you should do prior to your surgery to make the process as comfortable and convenient as possible.
Depending on certain details of your surgery, such as whether your breast implants are placed above or below the muscle, your recovery will vary slightly. All patients should make sure they have a partner or friend who can stay with them for at least the first couple of days following surgery. Other preparation steps you should take include:
Secure time off work. Most patients go back to work 5 to 7 days after surgery.
Clean your house or apartment. Coming home to a neat house with the dishes washed and the trash emptied makes a difference. During the early stages of your recovery, you won't be able to — or want to — perform even simple chores. That goes for laundry, too.
Get comfortable. Make sure you have all the supportive, comfortable items you will need for recovery, including soft, loose-fitting clothes and extra pillows to prop yourself up while sleeping.
Pay bills and take care of other matters. In the first week after your surgery, you may be more likely to lose track of bills and other arrangements. It's best to take care of these things early.
Prepare meals. Preparing and cooking meals is not something you will want to do during your recovery. Having nutritious, low-sodium food ready and easy to heat up is something patients truly appreciate after surgery.
Get your entertainment ready. Load your bedside table up with magazines, books, and other entertainment items; and charge your tablet, laptop, or other devices. Make it easy for yourself to relax.
Don't forget your dependents. If you are a mother, you may need to arrange for childcare or get some help preparing meals and doing other tasks for your children. Remember, you will not be able to lift young children for a few weeks after surgery. If you have pets, make sure you have plenty of food, arrange for a dog-walker, and so on.
Freeze some icepacks. These are great for reducing swelling and relieving discomfort.
Pick up prescriptions. Our team will give you your prescriptions before your surgery so you can have them ready afterward.
A Reputation Built on Results
Dr. Olson and his staff are top notch. I would give more than 5 stars if it was an option. Dr. Olson...
Dr. Olson and his whole staff were absolutely amazing! This was the 4th surgeon I consulted with and...
Dr. Olson And his entire staff are incredible. Their kindness , plastic surgery/medical expertise, dedication...
Amazing surgeon, very professional and I LOVE my results! The staff was wonderful and so friendly! Not...
How Long Does It Take To Recover From a Breast Augmentation?
Most patients may return to work 5 to 7 days following surgery. Strenuous activities may be restricted for several weeks. Dr. Olson may prescribe pain medication for the first week and muscle relaxants to aid recovery. After 5 days, many patients are comfortable with only ibuprofen or acetaminophen.
How Long After Breast Augmentation Do You See Results?
Final results develop over the course of 3 to 4 months as swelling subsides and the implants "settle" into a natural shape and position.
For more information on breast augmentation by Dr. Olson, visit our Breast Augmentation FAQ page.
The Latest Posts From Dr. Olson's Blog
From the Blog
Patients often say they're amazed by the results they see in tummy tuck before and after photos when looking for a plastic surgeon. Along with reviews posted by real patients on reputable websites, procedure before and after photos are a key factor for patients choosing a surgeon. But even though the transformations all appear dramatic,…
Continue Reading
---
From the Blog
Whether you're "doing it for the 'gram" or Zoom, lip injections continue to be one of the most popular cosmetic treatments performed every year. And that's just fine with the nurse injector at our Gilbert, AZ, med spa, Krista Arredondo. She loves performing lip injections, and her expertise produces results that patients love. One reason…
Continue Reading
---
From the Blog
The array of options for nonsurgical fat reduction treatments seems to expand almost every year. CoolSculpting was a pioneer when it received FDA approval in 2010 to reduce fat from "love handles." It has continued to break ground in the past decade with new applicators that we use for CoolSculpting patients at our med spa…
Continue Reading
---
Back to Top