Getting rid of excess fat remains one of the most common reasons people go to a plastic surgery practice. At my locations, we offer a range of surgical and nonsurgical fat removal options. Some, such as liposuction and CoolSculpting®, are familiar with my Gilbert, AZ, patients and have a long track record of producing excellent outcomes. We've also incorporated newer techniques, but only those clinically proven to be safe and effective.
Getting the best possible results begins with choosing the appropriate treatment. Doing that requires taking several things into consideration. Those include:
How dramatic are the results you want to achieve?
Liposuction can get rid of significant fat deposits in the abdomen, flanks, hips, thighs, arms, and submental (below the chin) area. Additionally, the results will be noticeable immediately. The dramatic results produced by liposuction is one of the reasons it is consistently among the top 5 most popular procedures in North America for both men and women. Many patients are willing to undergo a more invasive procedure after seeing pictures of the results.
We offer tumescent liposuction, suction-assisted liposuction, and ultrasound-assisted liposuction at my Gilbert location. All of these options are surgical and provide patients with instant and noticeable results. Liposuction can:
Create a thinner appearance
Reduce exercise-resistant fat deposits
Shape a more proportional figure
How invasive of a procedure are you prepared for?
For people that are at, or close, to their target weight, the nonsurgical options may be right for you. Nonsurgical body contouring options can target localized fat deposits, as opposed to a more comprehensive surgical option. These procedures can tone areas that resist exercise and diet, but won't match the results achieved with liposuction.
Noninvasive procedures have results that present themselves over the following 6 months after treatment. They can be a good option for patients who don't want to deal with anesthesia and other elements that come with surgery. With time, these noninvasive options can achieve beautiful and natural-looking results.
How much downtime can you afford?
Liposuction requires some time off of work and a gradual return to regular activities. The specific recovery times are based on which method of liposuction you choose, and the location and size of the area treated. Swelling and bruising should fade within about a week. Some patients experience minor soreness for several weeks.
The nonsurgical options have virtually no downtime, so patients can return to their normal daily activities directly after treatment. Patients that have rigorous work schedules or cannot afford to take time off work can be good candidates for a nonsurgical option. The nonsurgical treatments are often called "lunchtime procedures" because the treatments can often be completed in an hour or less.
What are the nonsurgical fat removal alternatives?
CoolSculpting is an FDA-cleared procedure that reduces fat by chilling the fat cells. Depending on the area or areas treated, the treatment takes about an hour and people often read, check email, or even nap during the procedure. Most patients experience little discomfort—the cold sensation can be intense initially, but the area quickly becomes numb. Some patients choose to undergo multiple treatments to maximize their results.
Cellfina® is an effective cellulite treatment that smooths out dimples and divots caused by fibrous bands of connective tissue under the skin. Cellfina procedures begin by numbing the treatment area with local anesthetic. Then we use a small handpiece that cuts the tissue bands that cause cellulite. There is no need for sutures—the areas will heal on their own.
I encourage patients that are considering one of these fat-removal procedures to check out my before-and-after photo gallery.
If you want to learn more about your options, request a consultation by contacting us online or giving us a call at (480) 466-7355 (Gilbert).
Before & After Liposuction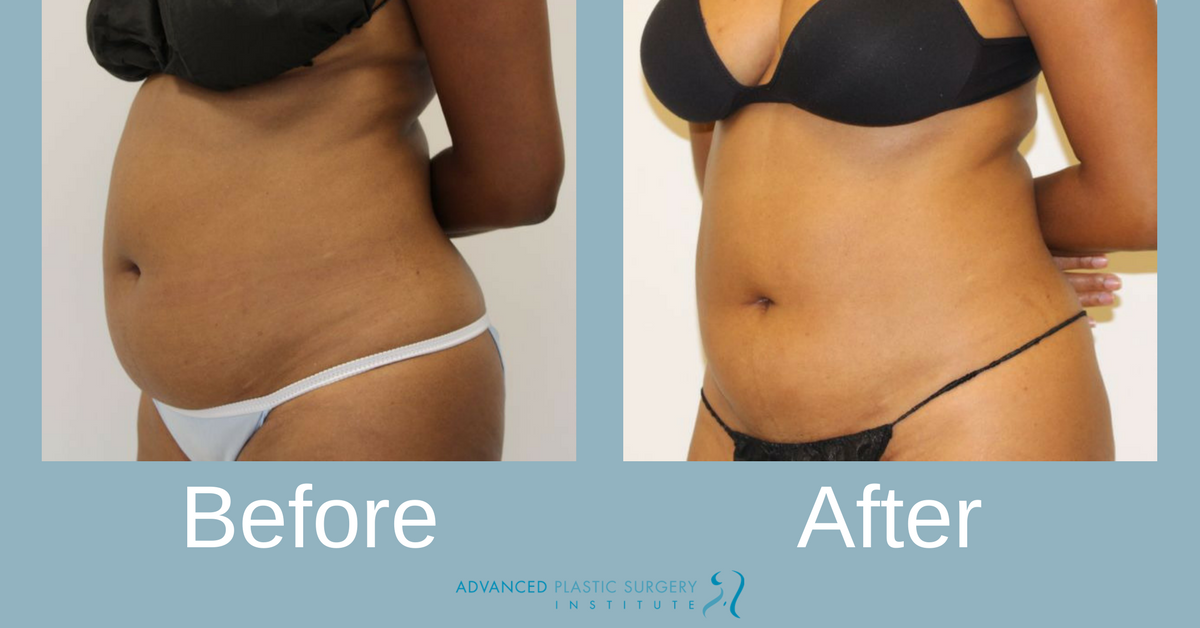 Before & After CoolSculpting