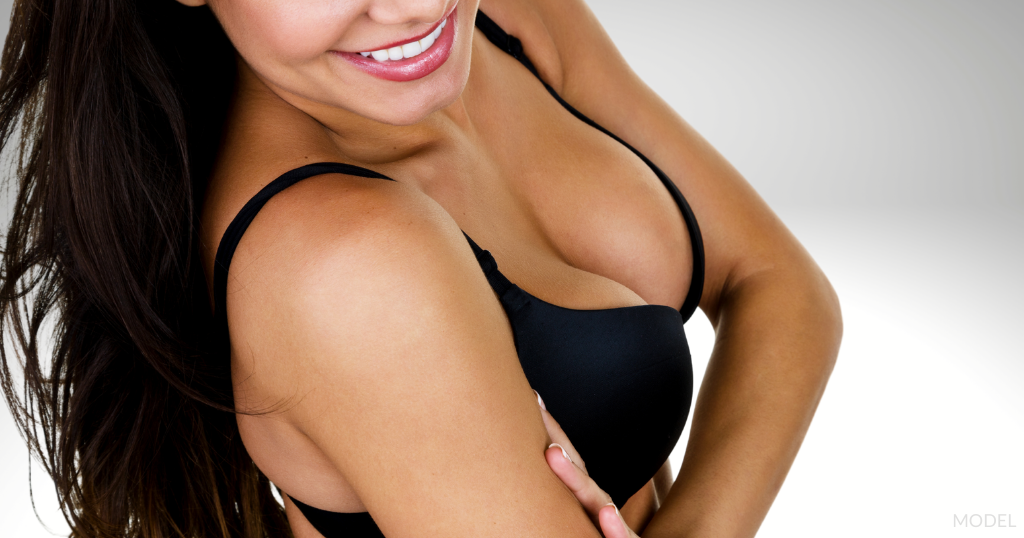 If you are opting for a breast reduction for your overly large breasts, you have probably dealt with life-long issues such as back pain, neck pain, indentation from your bra straps, and loss of confidence. You are likely excited about your procedure but apprehensive about how your breast shape will look after the procedure.
Pairing your breast reduction with breast implants is an effective way to enhance the shape of your new breasts, particularly if you want upper pole fullness. Whether you can have the procedures performed at the same time depends on a number of factors, and understanding what happens during breast reduction surgery may help you make a more informed decision.
How Does a Breast Reduction Procedure Work?
Breast reduction surgery involves removing excess breast tissue to create smaller, shapelier breasts. If you're unhappy with the size of your areola, it may also be reduced during the procedure.
Depending on the amount of breast tissue that needs to be removed, your plastic surgeon will use different methods that include 2 or 3 incisions. Discuss your breast goals with your plastic surgeon and the breast size you hope to achieve after the reduction so they can create a surgical plan that meets all of your needs.
Breast reduction is performed while you are under general anesthesia and takes around 2 to 4 hours to complete. You can usually go home on the same day of your surgery.
You can review some of our breast reduction before and after pictures to see how beautifully breasts can be reshaped during the procedure.
Breast Reduction Recovery
Your plastic surgeon will give you instructions for incision care and pain medication, and it's important to follow these instructions carefully during the recovery period. You should plan to get a lot of rest and avoid any strenuous activities for the first few weeks post-op. Most people are able to return to work 5 to 7 days after the procedure.
Incisions typically take about a month to completely heal, and it may be 3 or 4 months before you begin to see results as post-surgical swelling abates. Patients often say they appreciate being able to find better-fitting tops and blouses after their breast reduction and report an increase in body confidence. But you should remember that it can take up to a year to see the full results of your breast reduction.
Can You Get a Breast Reduction and Implants?
It's not uncommon to pair breast reduction with breast implants for increased lifting and reshaping of the breasts. While your plastic surgeon can reshape your existing breast tissue after a reduction, implants can give you more upper-pole fullness for enhanced cleavage and rounder, shapelier breasts.
According to a study published in Plastic and Reconstructive Surgery-Global Open, combining breast implants with a breast reduction will net the same recovery time as a standalone breast reduction procedure. Combining the two procedures also allows patients to avoid multiple procedures, reduce time away from work, and consolidate healing time.
Am I a Good Candidate for a Breast Reduction and Implants?
Combining your breast reduction with implants will depend on your breast goals and if you have enough breast tissue for reshaping. Each person is different, and some women may opt for breast implants months or years after their breast reduction procedure is completed. Your plastic surgeon can discuss your goals for breast reduction and if you should combine the two procedures.
Your overall health and weight need to be considered when deciding if you are a good candidate for breast reduction and implants. Following a healthy diet and being at a stable weight can help with your recovery process and boost healing.
Who Is Not a Good Candidate for a Breast Reduction and Implants?
If you have large breasts and severe sagging, you may not be a good candidate for implants. Breast implants can add fullness and shape to breasts, but if your main goal is to reduce and lift the breasts, a standalone breast reduction may be best. A breast lift is usually part of the breast reduction procedure, whereas breast implants can sometimes exacerbate sagging.
Choosing a Plastic Surgeon for Breast Reduction
As with most cosmetic procedures, it's important to choose a board-certified plastic surgeon with years of experience. You should make sure that your plastic surgeon is certified by the American Board of Plastic Surgery, which requires 4 years of undergraduate work, 4 years of medical school, 5 to 8 years of surgical and plastic surgery training, and successful completion of written and oral board examinations.
Many doctors may perform plastic surgery even though it's not their specialty and they're not certified by the ABPS. These situations can result in unsatisfactory results and unnecessary complications. Be sure to do your research and discuss qualifications with all potential plastic surgeons.
If you decide to get breast reduction alone or with implants, your board-certified plastic surgeon will guide you through the process and answer all your questions. If you want to see if you are a good candidate to combine breast reduction with breast implants, request a consultation or call us at (480) 466-7355 to schedule an appointment.