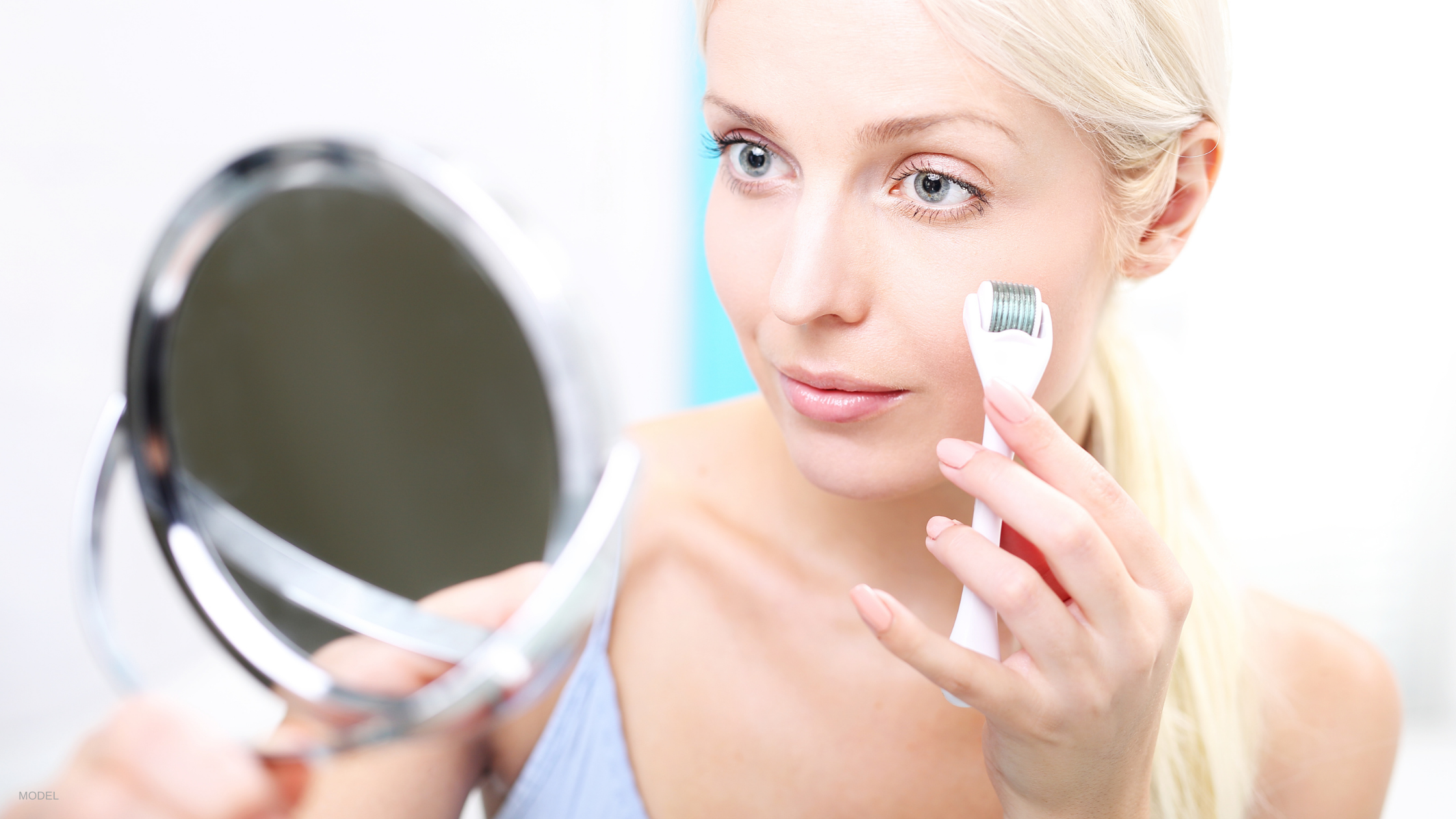 Do-it-yourself cosmetic treatments became a trendy option for Arizona residents during the state's lockdown because of the pandemic. Chalk it up to necessity being the mother of invention, as the old saying goes. But do these at-home procedures produce results similar to what you can get at a plastic surgeon's office or a medical spa? Microneedling, offered at our Gilbert, AZ practice, is one of the most popular DIY treatments.
What Is Microneedling?
Before discussing the differences between at-home and professional microneedling treatments, it's important to understand how the treatment is performed and what it can do for the appearance of your skin. As with most nonsurgical skin rejuvenation treatments, microneedling involves stimulating the production of new collagen by creating micro-injuries that trigger the body's healing response.
An analysis of Google searches for the treatment and its aliases indicate microneedling's popularity shows no sign of slowing down, with searches up more than 1,500% in 12 months as of May 2020.
We use the Eclipse MicroPen™ for microneedling, a device that enables us to perform the treatment with more precision, less downtime, and enhanced comfort than laser skin resurfacing or manual derma rollers. The handheld MicroPen makes dozens of tiny punctures in the skin as a provider glides it across the treatment area. It's fully adjustable, meaning we control the depth of the penetration.
How Does At-Home Microneedling Work?
These days you can learn how to change a flat, build a computer, and troubleshoot a glitchy microwave oven on YouTube. The same is true for microneedling at home using a device you can buy at most department stores. But like a lot of YouTube instructional videos, microneedling may look safer and easier to accomplish than it truly is.
And unlike most other DIY cosmetic treatments, microneedling actually punctures the skin, which means the risk of making a mistake is far greater than if you're using makeup to create contours. The primary difference between professional microneedling and at-home dermal rollers is how deeply the needles penetrate the skin. Most at-home microneedling devices only perforate the skin's top layer (the epidermis), which isn't deep enough to stimulate collagen production. These procedures do enable the skin to more efficiently absorb nourishing skincare creams and serums, though.
But the risk of infection or unwanted scarring is real, and it's critical to carefully prepare the treatment area and ensure the environment is sterile. Yes, going to a medical spa or plastic surgery practice for microneedling is more expensive than at-home treatment, but I recommend assessing the risk versus the rewards in this case.
What Are the Benefits of Professional Microneedling?
Microneedling addresses a wide range of concerns for the women and men we see at our Gilbert and our Scottsdale-area practices. These include:
Minimized acne scars and discoloration
Reduced wrinkles and stretch marks
Improved skin texture and complexion
Enhanced absorption of creams, lotions, and serums
Increased skin thickness
Alternatives treatments, such as laser skin rejuvenation or chemical peels, can also help patients with these skin concerns.
If you've been thinking about microneedling and want to learn more about the treatment, you can contact us using the online form to request a consultation or call us at (480) 466-7355 (Gilbert, AZ) to schedule an appointment.