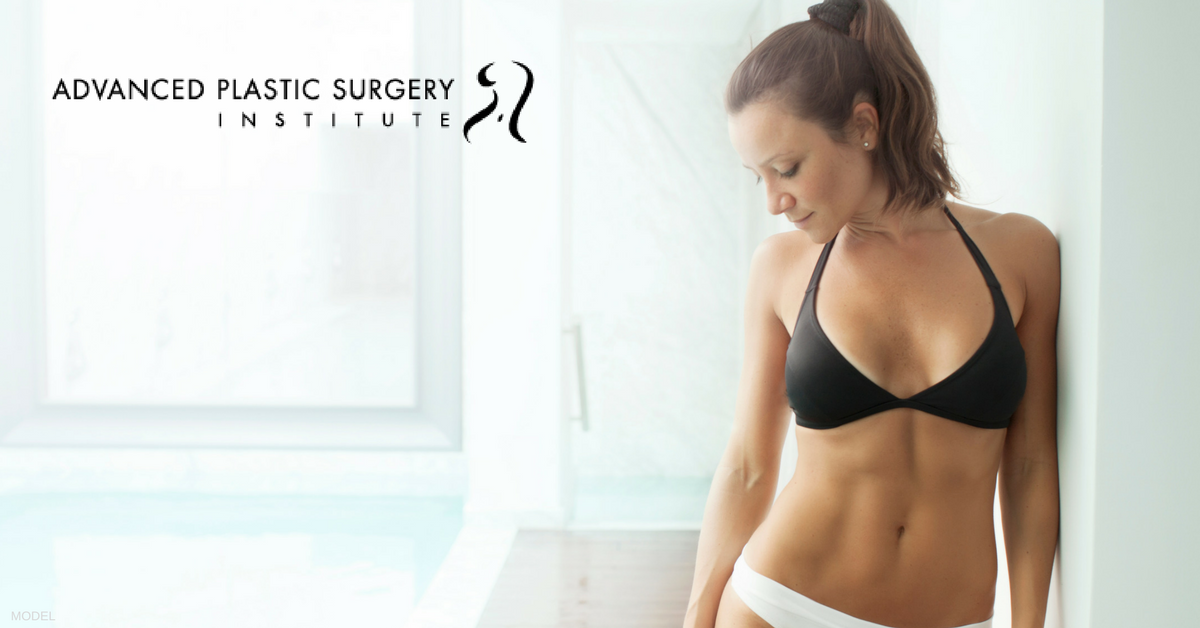 The midsection is one of the most common problem areas for both men and women alike, and we offer various surgical and nonsurgical body contouring procedures to fit each patient's needs. CoolSculpting®, liposuction, or tummy tuck surgery can help you finally eliminate your unwanted bumps and bulges. During your consultation, your plastic surgeon will discuss your concerns and recommend a treatment that will help you reach your cosmetic goals.
1. CoolSculpting
CoolSculpting is a non-invasive treatment that uses precise cooling to eliminate fat cells from not only the abdomen, but also from the flanks, back, hips, and thighs. Fat cells freeze at a higher temperature than other cells, so CoolSculpting can target specific areas of fat without damaging the surrounding tissues.
You may be a good candidate for CoolSculpting if you:
Have stubborn pockets of fat that won't shrink regardless of good diet and regular exercise
Have "pinch-able" areas of fat without loose skin
Have good skin elasticity
Are within 10 pounds of your ideal weight
Are willing to wait for gradual results
Have no time for recovery
Do not want surgery
After treatment, the fat cells gradually die, and your body eliminates them through the lymphatic system. You will begin to notice results in as little as 3 weeks. The most dramatic results will be apparent after about 3 months. One CoolSculpting session can get rid of up to 25% of fat cells in a given area. Often patients schedule multiple treatments to achieve optimal results.
2. Liposuction
Liposuction is one of the most popular surgical body contouring procedures available because it can effectively reshape and permanently remove stubborn fat from the abdomen and other areas of the body. During the procedure, a tiny suction tube gets rid of excess fat to provide patients with improved proportions and a slimmer body contour.
You may be a good candidate for liposuction if you:
Have localized areas of fat without loose skin
Are within 10 pounds of your ideal weight
Want quicker and more dramatic results
Types of Liposuction
We offer 3 liposuction techniques to choose from:
Tumescent liposuction is done without general anesthesia and uses a special saline mixture to significantly reduce bruising and bleeding.
Suction-assisted liposuction is the traditional method for liposuction that has been performed on countless patients around the world.
Ultrasound-assisted liposuction uses ultrasonic vibrations to liquefy fatty tissues, which makes the procedure much gentler.
Recovery for liposuction is fairly fast, and you can return to work within a few days. You will be able to see noticeable results immediately, and improvements will continue to appear over the course of 6 months as swelling subsides.
3. Tummy Tuck
A tummy tuck can often correct in a few hours what years of diet and exercise have been unable to achieve. Also called abdominoplasty, this procedure provides the most dramatic results of the 3 body contouring options. It is often combined with liposuction to correct loose skin and excess fat in one surgery.
You may be a good candidate for abdominoplasty if you:
Have permanently stretched abdominal skin due to pregnancy or weight loss
Have separated or loosened abdominal muscles
Have a body mass index (BMI) of 30 or less
Want optimal results
Read our related blog post to learn 7 things you should consider to further determine if you're ready for tummy tuck surgery.
Types of Tummy Tuck Surgery
We offer 3 types of tummy tucks:
A full tummy tuck addresses the entire abdomen and requires an incision from roughly hip to hip and another around the belly button.
A mini tummy tuck treats only the lower abdomen and is reserved for younger patients with mild to moderate skin laxity.
A circumferential abdominoplasty is a more extensive procedure for patients who have lost significant weight.
You will be able to see improvements immediately after your tummy tuck procedure, and these results will continue to improve over the following year. Most patients can return to work after about 2 weeks. If your job requires physical labor, you may need to take off more time.
Browse through more before-and-after photos to help you envision the type of results you can achieve.
If you want to discuss your options, contact us online. You can also call our Gilbert, AZ, office at (480) 466-7355 to schedule an appointment.