Patients often say they're amazed by the results they see in tummy tuck before and after photos when looking for a plastic surgeon. Along with reviews posted by real patients on reputable websites, procedure before and after photos are a key factor for patients choosing a surgeon.
But even though the transformations all appear dramatic, a closer look at the "after" photos can help you distinguish between so-so outcomes and the best tummy tuck and mommy makeover results. In this blog post, we'll point out 3 key elements to look for when reviewing tummy tuck before and after photos and explain why they are important.
Why Do People Get Tummy Tucks?
It's helpful to understand the goals of a tummy tuck before describing what to look for in before and after photos. Abdominoplasty—typically called tummy tuck surgery—is a body contouring procedure that removes loose abdominal skin after significant weight loss. Both women and men get tummy tucks, although many patients are women who have had children and don't plan any future pregnancies.
Exercise and dieting don't help shrink the excess skin that remains after weight loss, which is frustrating for many people who don't feel confident wearing swimwear or even undressing in front of their spouses or partners. In addition to removing excess skin, a tummy tuck enables surgeons to tighten abdominal muscles that are separated during pregnancy—a condition called diastasis recti that is shown in these before and after photos: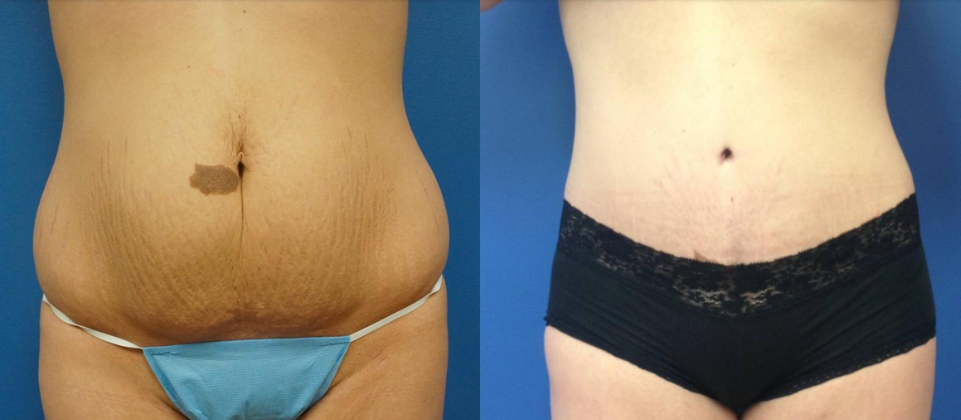 *Keep in mind that each patient is unique and your results may vary.
3 Things To Look for in Tummy Tuck Before and After Photos
While scrolling through tummy tuck before and after photos, it's impossible to miss the flatter stomachs and the lack of excess skin. When you look closer, though, you'll see the technical skill of certain plastic surgeons more than others.
Low, Inconspicuous Scar
Much of the research involving modern cosmetic surgery techniques has focused on minimizing the invasiveness of procedures and improving incisions to reduce the appearance of scars. That's especially true for tummy tuck surgery, which involves making a horizontal incision from one hip to the other.
Making the incision as low as possible—just above the pubic area—is an essential element of a successful tummy tuck. The scar should be completely hidden when a patient wears a skimpy bikini bottom or men's Speedo®. It should also be linear; a zig-zag incision is disappointing, no matter how low it's placed.

*Keep in mind that each patient is unique and your results may vary
A Bellybutton That Looks Natural
How often do you think about the way your bellybutton looks? Unless you are discussing innies and outies with friends, probably not too often. So, it may be surprising that the bellybutton can be the key to patient satisfaction after a full tummy tuck. During abdominoplasty, the plastic surgeon stretches the abdominal skin and removes a significant amount of the excess skin. The proportions of the patient's stomach shift, meaning the surgeon needs to create a new opening for the existing umbilical stalk and sculpt a new bellybutton.
Few patients think about this when looking at before and after photos, but a bellybutton that appears unnatural will get your attention. Excellent plastic surgeons often develop their own techniques for creating bellybuttons that look natural, and they spend extra time in the OR ensuring a beautiful outcome.
The sweet spot is to create a bellybutton that doesn't look like a perfect circle but isn't too narrow of a slit. It should look like the patient was born with this bellybutton. Additionally, the surgeon should "tack down" the skin and fat around the bellybutton to avoid having the naval appear "too" flat.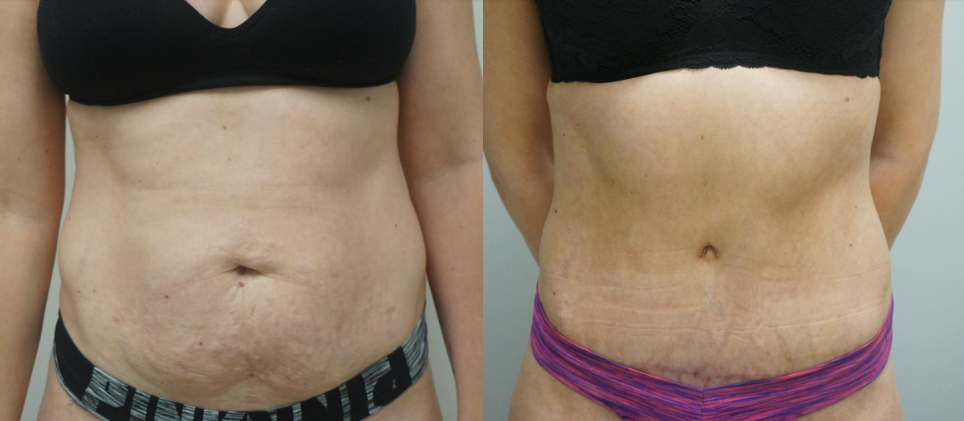 *Keep in mind that each patient is unique and your results may vary
Natural-Looking Abdominal Contours
Even though tummy tuck patients typically describe their goals as having flat stomachs, plastic surgeons no longer believe a completely 1-dimensional tummy is aesthetically pleasing because it doesn't look natural. Surgeons now sculpt contours and curves to accentuate the flatter stomachs created during tummy tuck surgery. This is often accomplished by combining liposuction with abdominoplasty. Sometimes called liposculpture because surgeons artfully remove fat in a way that shapes the patient's figure, liposuction is now considered an essential element to sculpt both the area above the bellybutton, the flanks, and even the lower back in some cases.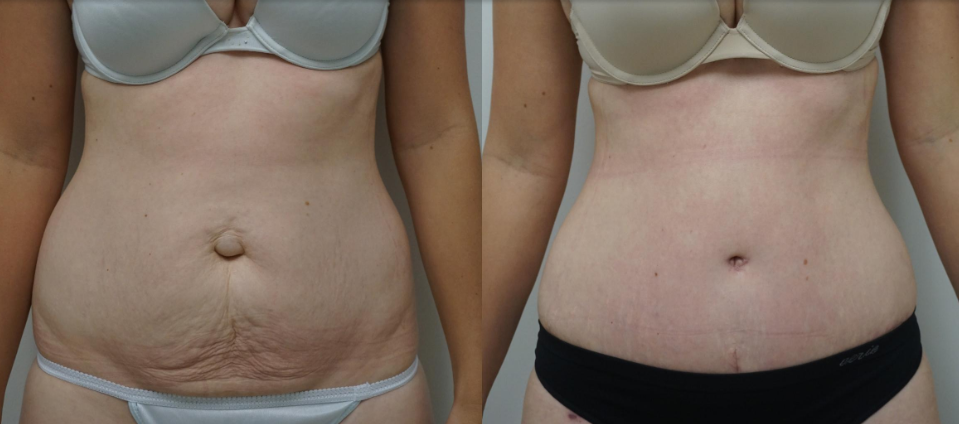 *Keep in mind that each patient is unique and your results may vary
Schedule a Consultation
If you're thinking about getting a tummy tuck and want to discuss your options, request a consultation using the online form to meet with Dr. Olson or call our practice at (480) 466-7355 to schedule an appointment at Advanced Plastic Surgery Institute.